Away from the world, the city, and the light pollution, I stood in a green forest where the breeze couldn't even penetrate the trees surrounding me. It was an area that only existed to me in imagination from multiple times of poring over Google Maps and allowing my mind to wander. Off in the distance I could hear the low rumble of a slow moving freight train struggling to climb up the hill that I had perched myself on. As it got closer, I could see the treeline in the distance interrupted by the heat haze cast off from its exhaust stacks. It was at this moment I could calculate my exposure, as I had a visual reference of its speed. And then I saw the locomotive break the vertical silhouette of the trees. It was, in a way, foreign to the landscape that surrounded it, like a metallic dinosaur crawling through some uninhabited land, miles away from civilization. It was an opportunity that I had only seen when I daydreamed, but became possible all due to… a bike.
To be honest, this article didn't start out being so much about bikes, but rather what it would take to reach distant areas of land to photograph trains. As a commercial photographer, I've been conditioned to see the only product that mattered being the images in the end, but the journey to getting them is just as important to me.
When this e-bike project started, I found myself going to every local bike store asking to learn about e-bikes and what their capabilities and shortcomings are. Between in-person and internet research there was a lot to look at. However, my eye started gravitating towards the form being just as important as the function. Maybe it's the side of me desiring aesthetics, or maybe it's just the fact that I got really tired of seeing so many e-bikes with a big black box of a battery slapped onto them that just wore thin on me. Eventually I stumbled upon Aventon, a California-based company that has a smaller selection of e-bikes than most, but the ones they did have were aesthetically striking. In many ways the bikes look like regular bikes, but with large tires. The batteries are built into the chassis so that they're hidden, and the lines remind me of some of the cars I photograph. I reached out to them early on with the initial plan of transporting the bike to location with my car and riding further into the forest for the photos. For this reason, the first bike I got was a Sinch.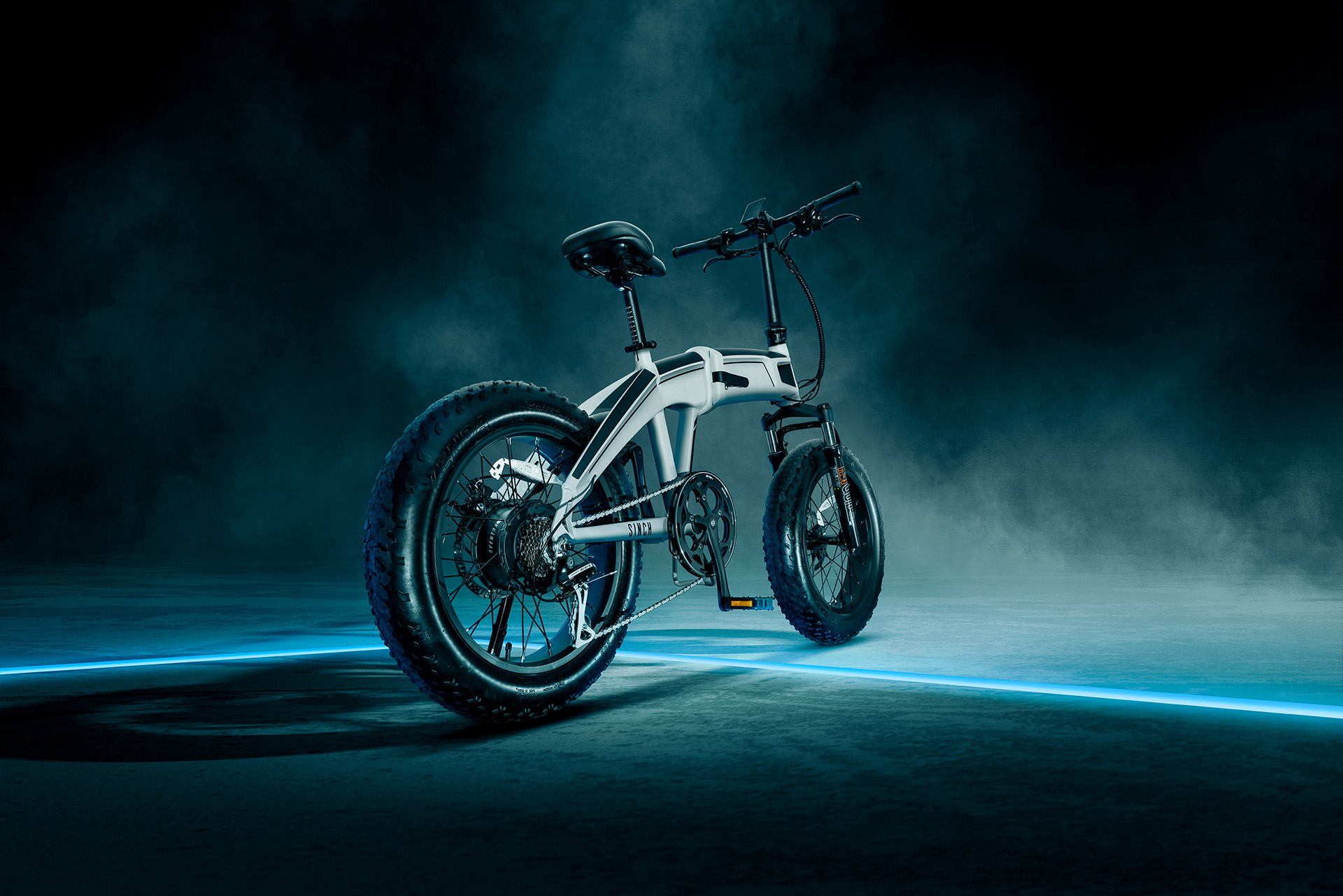 The Sinch is a bike that folds in half and clamps the handlebars in order to fit into the trunk of a car. While it was one of the smaller bikes they made, it still seemed quite capable. My thoughts were that if I could just get a bike that would carry me and my camera, it could serve as nothing more than transportation to make the production possible. However, once it arrived and I rode it for the very first time, it excited something in me that I haven't felt since I was a kid. In many ways, it felt like the first time I had ever explored the wilderness on a bike. There were always places around me that I'd wondered what they would be like visually, but I didn't want to walk all the way there with a gear backpack on. Now, with the e-bike, I can ride to a location, look around, and then ride further, seeing the world in a way I never knew existed. I found locations for future photo shoots of people, landscapes, and even new angles on trains. 
Upon returning from my first outing on an e-bike, I never even took the camera out of the bag. Even still, I felt that I had done something that would benefit my photography, not to mention my physical health as well. I was high on life and immediately plugged the bike in as a plan to ride the next day again.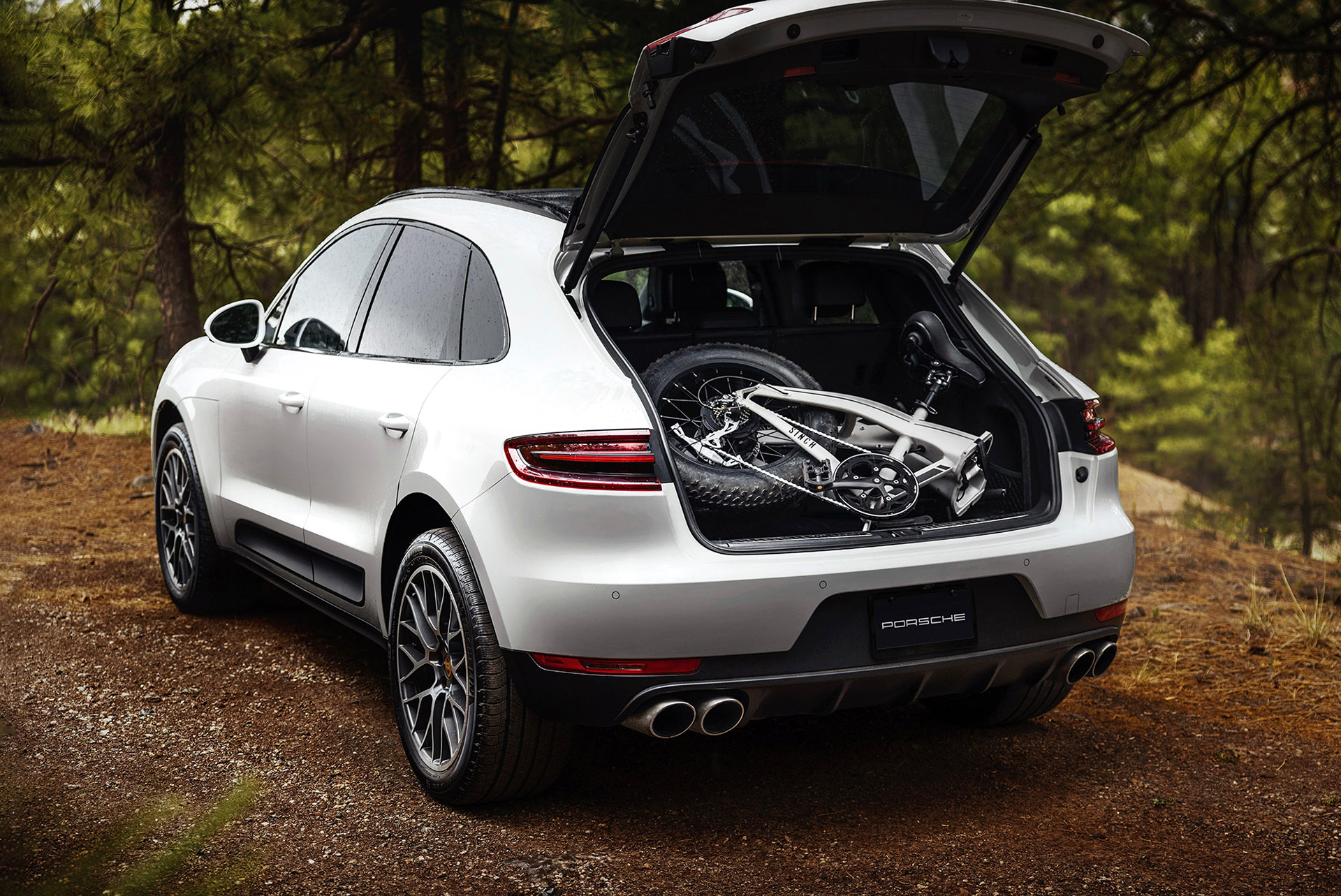 It was around this time that the heavy monsoons began in Flagstaff, where I live. There were houses being flooded due to burn scars that existed on the nearby mountains from two wildfires only one month prior. I thought it was more important to help those in need to protect their houses from further rain, and so the e-bike project was put on hold. Most of my days were spent building or laying sandbags and sometimes shoveling mud from the streets. All the while, I was jonesing to ride the bike again and waiting for the weather to allow it. Somewhere in the midst of this I got a call from Aventon asking me how I was enjoying the bike. I told them that it was everything I could dream of, but that I had yet to create an image by utilizing it as I tend to get distracted and ride for hours every time I go out. 
In a bit of an effort to force me to be creative, I invited my best friend Mike out to Flagstaff to ride bikes and shoot some photos. I figured that if my willpower wasn't strong enough to stop and create images, hopefully his would be. He too loved the bikes Aventon made and got an Aventure. Because this bike didn't collapse and was absolutely huge, it handled the train photo shoot even better. With gas prices being as high as they were, we found out we were saving money by riding them rather than driving our cars—not to mention the fact that we couldn't even fit the bikes in our cars. The first day of us riding together proved to be just like every other day I had ridden by myself—we went out and rode trails but never even took the cameras out.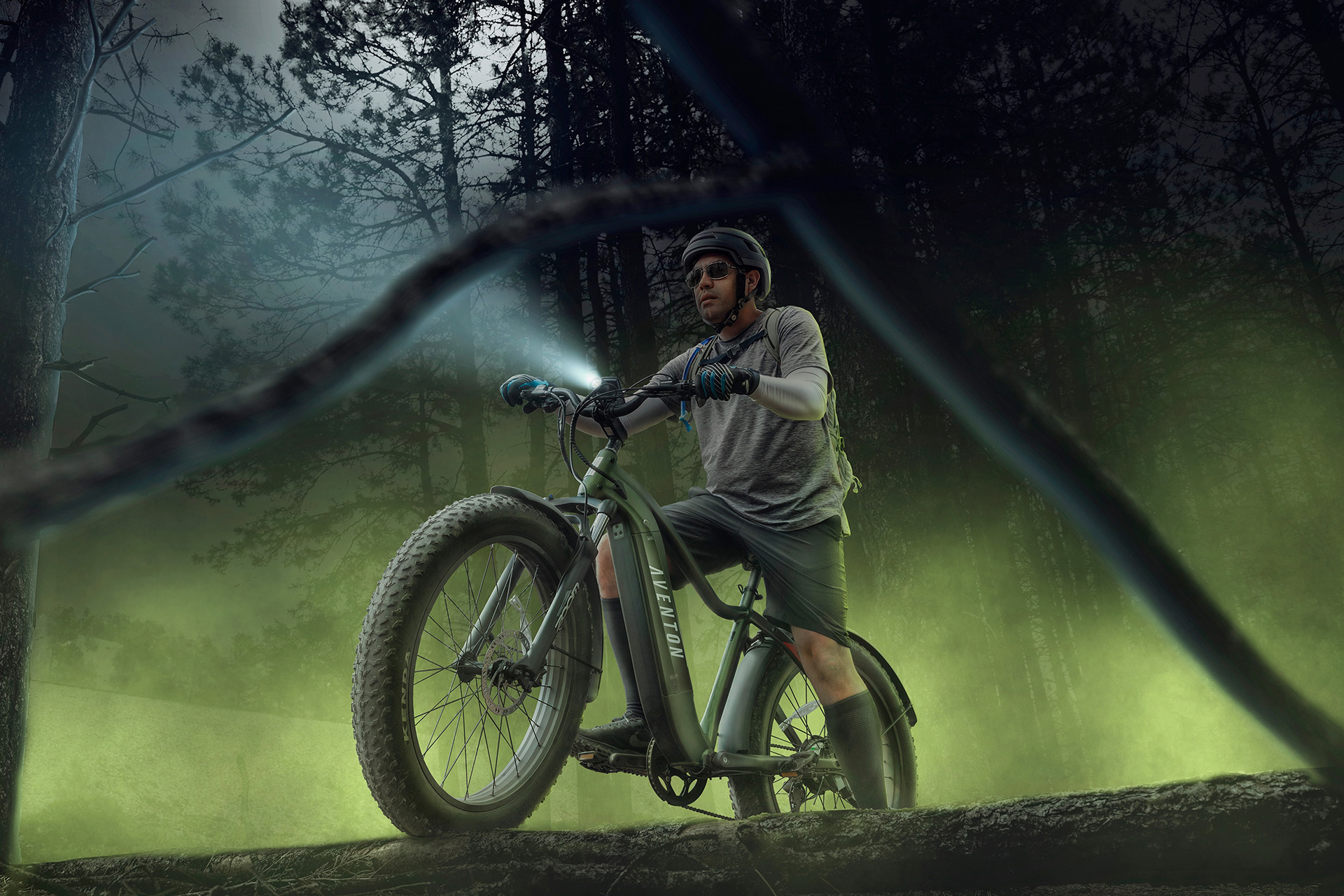 On the second day, we were graced with incredible light and felt compelled to shoot the shots we had planned on. We rode to the tracks and immediately got lucky with two cool trains that had passed. However, I knew that it would be a while before any other trains came, so instead we turned the cameras towards the bikes and took pictures riding them. While the idea of creating some kind of action-based biking images existed in our minds, Mike and I both realized that our physical conditioning along with our riding skills would not make this possible. We thought about bringing some lights out and taking semi posed pictures around the forest while waiting for trains. Call it silly or juvenile, but truthfully it is often fun photo shoots like this that remind even the most professional photographers why photography is so special.
After catching a couple more trains, we rode back to my house and washed the bikes as they had both been turned completely brown from the mud. After enjoying a couple beers we thought it would be fun to set up a studio to photograph our bikes. After all, if I was going to write an article about them, people might want to see what the hell we're actually talking about. We set up lights and some effects and photographed each of the bikes. In many ways it was the practice I needed as I would step on set for a sports campaign only two days later.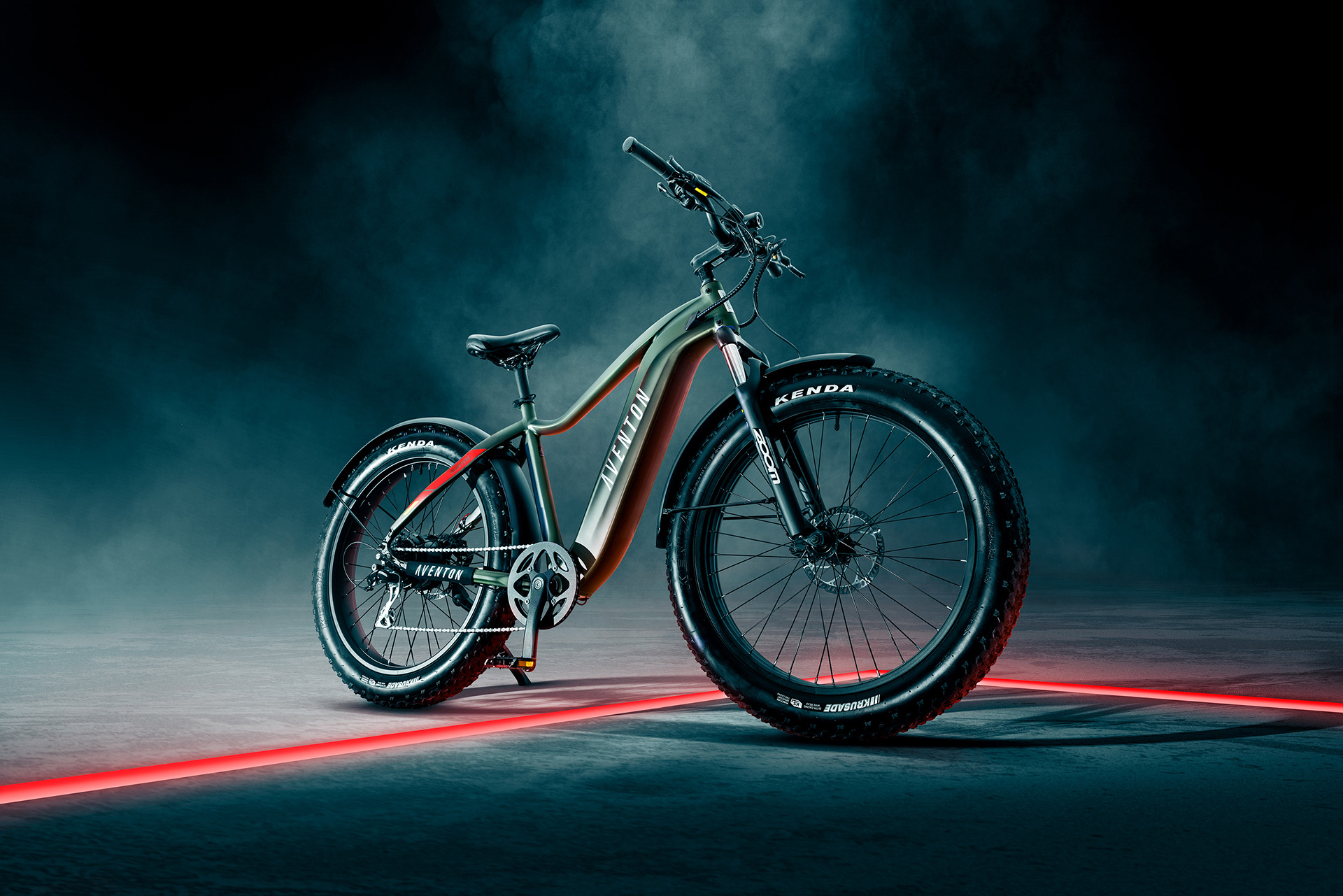 In the weeks following I too picked up an Aventure and now see how people go down the rabbit hole when it comes to buying e-bikes. In many ways they are the camera accessory I never knew that I needed, nor wanted. However, after the last month I feel as though e-bikes could be one of the most important tools to a photographer. Photographers have been taught since the days of Robert Capa that the first rule of photojournalism is to get close, and the second rule is to get closer. What bikes have enabled us to do is to step back from using the zoom ring on the lens and move into our images—sometimes finding details that we never knew existed before. I now find that my time spent off set or away from production meetings is now consumed by looking at Google Maps for trails in an effort to ride them and find views of nature I never knew existed. We have already used one location that I found on the Aventure as a production deck for an outdoor campaign, and I am sincerely convinced I never would've found it had I not gone for a ride that day.
I want to thank the local bike shops in Flagstaff along with Aventon bikes for taking the time to teach me about the capabilities of modern e-bikes. I also want to challenge you as the reader to go rent a bike, put your camera in your backpack, and ride around to see what you might not have seen before in a car. Be open to the chance that the world just might astound you.